This article updates our earlier paper "Financial Options for Restoring Quality and Access to Public Higher Education in California: 2015-16" to add a calculation for the cost to eliminate tuition in California's public higher education systems while restoring access and quality. The earlier paper calculated the cost to fund higher education at the levels it was funded at for many decades in the past, levels that helped avoid student debt.
California has intended higher education to be tuition free since the creation of the University of California in 1868: "as the income of the University shall permit, admission and tuition shall be free to all residents of the state," ("The Organic Act–Chapter 244 of the Statutes of 1867-1868" section 14) and reaffirmed this desire in their "A 1960 Master Plan for Higher Education in California" ("The two governing boards reaffirm the long established principle that state colleges and the University of California shall be tuition free to all residents of the state." A Master Plan for Higher Education in California, page 14). For some time it became somewhat ridiculed to talk of free higher education, but the most recent president election has reintroduced the idea. The leading Democrat running for president, Hilary Clinton, plans for debt free college, and her major Democrat opponent, Bernie Sanders, has a plan for free public higher education to be paid for by a federal financial transactions tax.
How much would it cost – through restored taxpayer funding – to restore the three segment system's historic quality while accommodating the thousands of qualified students excluded by recent budget cuts? As a second calculation, how much would it cost to eliminate tuition and fees, as the Master Plan had originally intended? Table 1, below, shows the calculations that produced these numbers. We begin by assigning a base year set to the last time the state funded higher education at the historic level, which was 2000-01. As explained in the article linked to above, 2000-01 was the most recent time funding for the three segments was similar to its multi-decade levels from at least the mid-1960's through the 1990's.
Starting with state funding numbers and enrollment numbers for this base year, we divide one by the other to obtain the state funding per student FTE (FTE data comes from the individual higher education systems, state expenditure data comes from the Legislative Analyst's Office). Next we adjust the 2000-01 dollar amounts for inflation to their equivalents for 2015-16 and subtract the actual levels of funding per student currently enrolled in each sector to determine the funding shortfall compared to 2000-01.

Restoring full state funding for existing enrollments would cost an additional $3.3 billion. These calculations do not tell the whole story, however, because all three sectors have responded to resource cuts by admitting fewer students than they would under the Master Plan. Providing funding to accommodate students who have been forced out of the higher education system would raise this number to $5.7 billion. The total revenue from students in 2015-16 was about $1.5 billion. If we use state funding to cover that money, the total cost to eliminate tuition would be $7.2 billion.
If a federal funding solution is not available, what do these total costs mean to the individual California tax payer? Tables 2 and 3 outline calculations that answer that question. We obtained the distribution of taxes paid by adjusted gross income from the Franchise Tax Board for 2013, the most recent year available (state income tax revenue by adjusted gross income class and corporate income tax revenue). In table 2 we allocate the $5.7 billion it would cost to restore public higher education to 2000-01 proportionately across all taxpayers. Note that the categories are for individual filers (where individual returns are often joint returns for families), partnerships and Subchapter S corporations, as well as corporations that pay income taxes. For the median personal income tax payer (including families), restoring the entire system while rolling back student fees to what they were a decade ago would cost about $31 on April 15, 2015.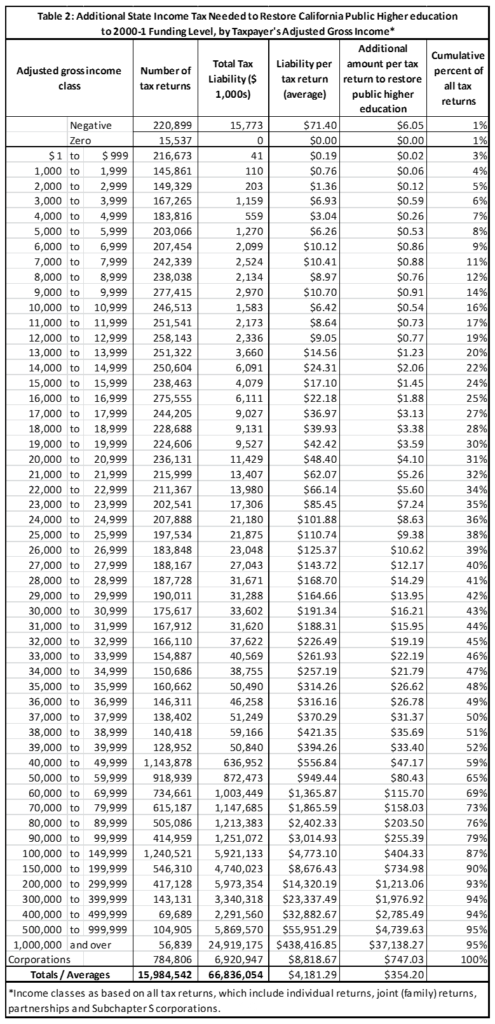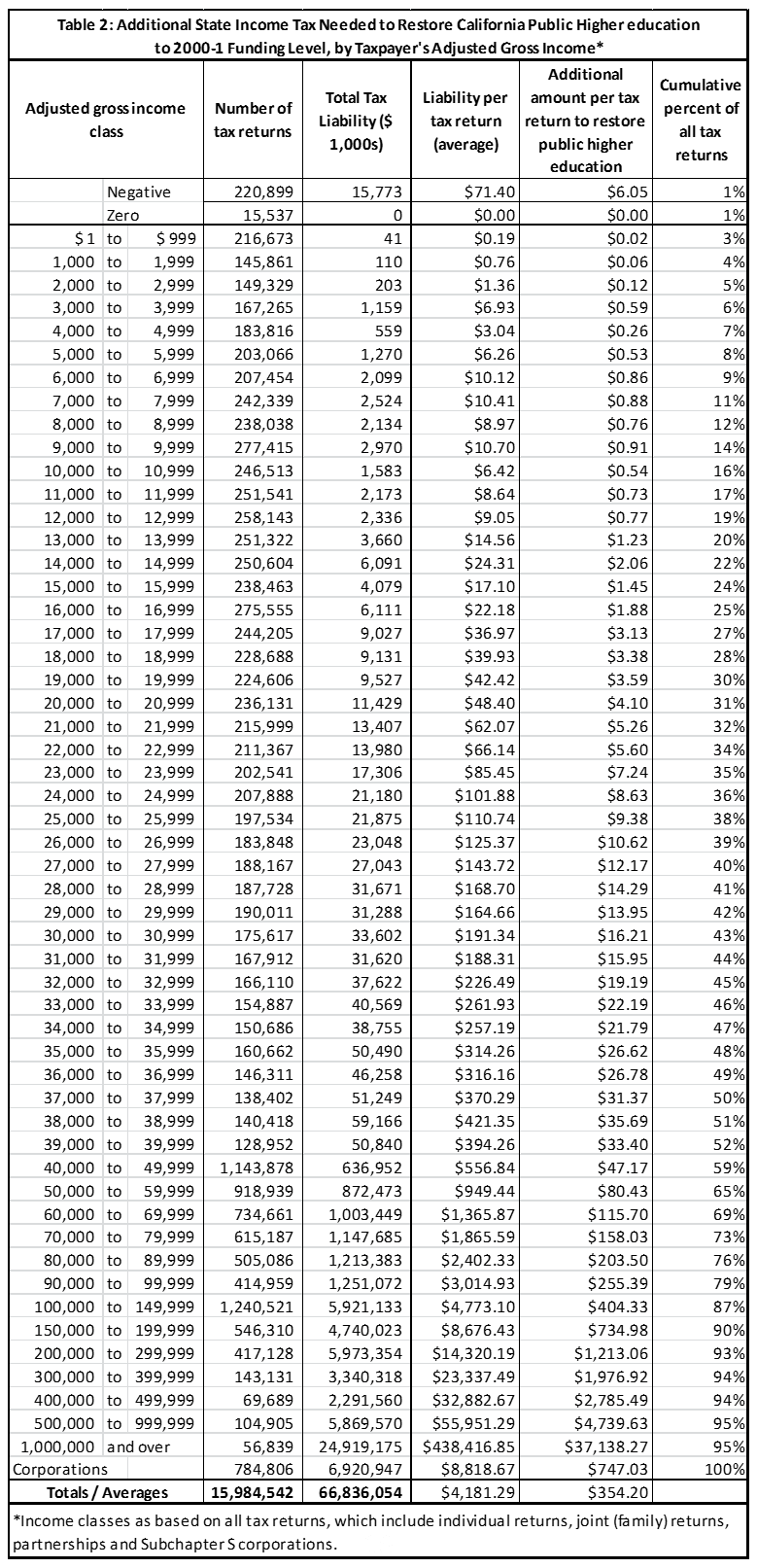 Table 3 repeats the process of distributing costs proportionately across all taxpayers, this time the cost to eliminate tuition across all three segments. For the median income tax payer this would be $40.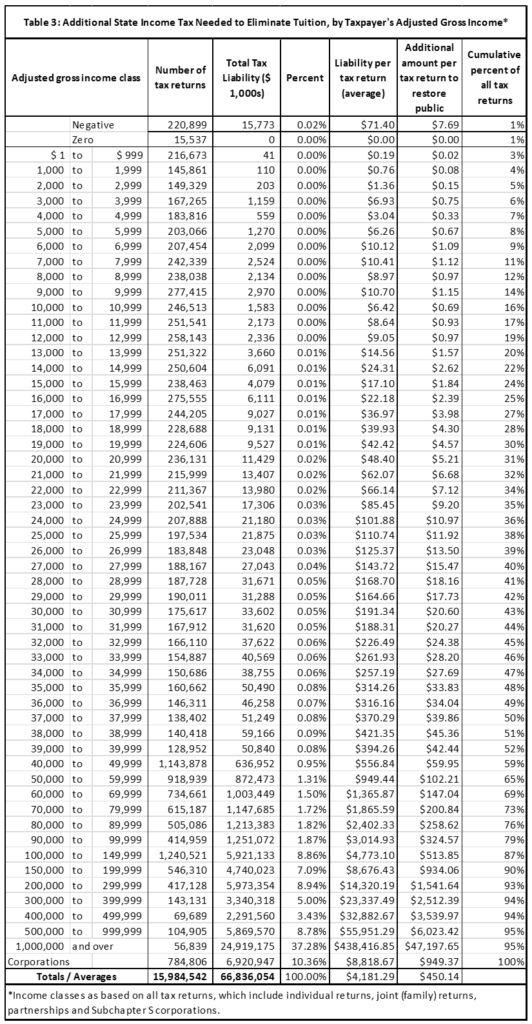 Income taxes are presented as one option, simply to illustrate the cost for typical taxpayers. Personal and corporate income taxes are forecast to be about 75 percent (Governor's Budget Revenue Estimates) of all state revenue in 2015-16; part of the cost could be allocated to other taxes, which would lower the effect on individual income tax payers. We also assume that the costs would be distributed as a uniform surcharge across all tax categories. If the cost were allocated more or less progressively, that would also affect impact on individual taxpayers.