Is the privatization of UC just part of a national trend beyond the control of UC leadership and Governor Schwarzenegger?
No.
In a September 27, 2009, New York Times interview UC President Mark Yudof was asked: "UC is facing a budget shortfall of at least $753 million, largely because of cuts in state financing. Do you blame Governor Schwarzenegger for your troubles?" Rather than holding Schwarzenegger accountable for the massive cuts he has imposed on UC and CSU, Yudoff responded: "I do not. This is a long-term secular trend across the entire country. Higher education is being squeezed out. It's systemic."
This is a commonly repeated trope, but is it true? No. The blue line in the chart below tracks the amount of money per student (FTE), adjusted for inflation that all of the states' public higher education systems have spent over the last three decades: the line fluctuates a bit but does not descend. In contrast, the gold line, which represents the State of California's real spending per UC student drops markedly after 2002. (The gold line is far above the blue line because UC is a Tier 1 four-year university; the blue line traces the national average for all public higher education, including two-year community colleges.) This chart shows the rapid decline in state support for UC students is not typical of a national trend.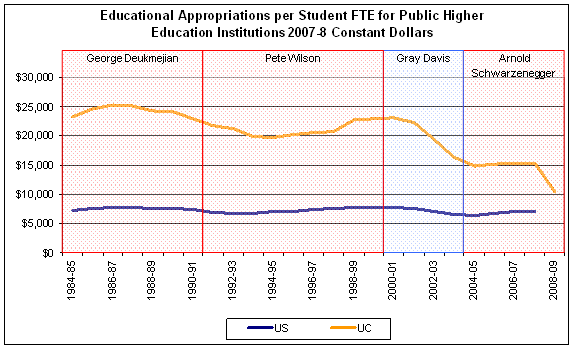 Sources: State Higher Education Executive Officers, California Legislative Analyst's Office.
Since Arnold Schwarzenegger became Governor of California, state funding of UC, per student, has dropped 30 percent. The state contributes less than half of what it did a decade ago
As envisioned in the Compact for Higher Education  between the Governor and UC and CSU, UC has, for all practical purposes, abandoned the California Master Plan for Higher Education and is rapidly privatizing by dramatically shifting costs on to students. The chart below indicates that, adjusted for inflation, UC tuition (gold line) is well ahead of the rising curve of public four-year university tuitions (blue line) across the country. UC is not just following a national trend.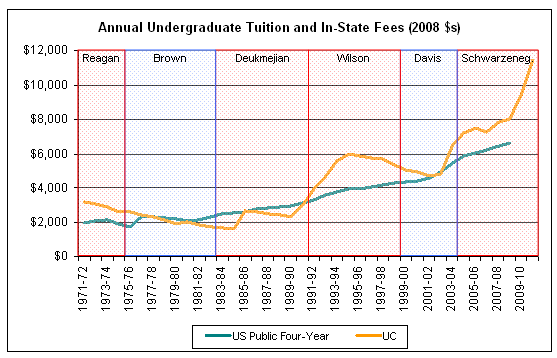 Sources: College Board, California Post Secondary Education Commission
This tuition chart also punctures the idea that UC tuition (and fees) is well below other public universities. While UC tuition tracked the average of other four year public colleges in the past, it increased dramatically faster in response to large cuts imposed by Republican Pete Wilson, recovered for a time under Democrat Gray Davis, then exploded after Gov. Schwarzenegger's forced his Compact on UC and CSU in 2004-5. By 2008-9 UC cost students and parents 22 percent more than the national average. If the trend-line for all states continues in the 2009-10 and 2010-11 years, then UC tuition will be twice that of the average public university.
The red and blue bands demonstrate that gubernatorial party affiliation is not a strong predictor of support for higher education. Past Democrats have been both good and bad, as have past Republicans. In terms of cutting public support and transferring costs to UC families, however, Gov. Schwarzenegger is in a league of his own.
6 Responses to "Schwarzenegger is not just following a national trend to cut higher ed"